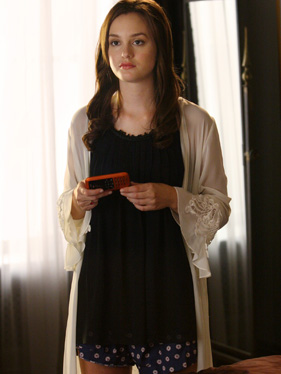 I have only taken on one new network show this season, and Gossip Girl was one I just could not resist. Brought to us by OC creator Josh Schwartz and featuring music supervisor queen Alexandra Patsavas, there was no way this couldn't be the guilty pleasure of the year. After two episodes now, I'm officially hooked, but frankly a bit disappointed by the music selections. Hey Alex...too busy with your new label?
Last night's episode was not as eventful as the first, but we were still bombarded with bitch fights, love triangles, and some witty banter (although none will ever rival the Cohen's). In this "Upper East Side" world, I find myself flabbergasted by the lives of this high school students, although I wouldn't doubt that its too far from the truth (New York Mag tallies up just how real, on a weekly basis). I love cute-guy Dan the most, so I'll keep watching for him and his washed-up rockstar dad, and I'm sure as the episodes pile in I'll be deeply immersed in their lives. Nothing can ever rival The OC, though. And I think they know it.
The first episode of the series opened with Peter Bjorn & John's song...yeah, you know which one..."Young Folks" so I had hopes that maybe Patsavas had something more up her sleeves. The second episode wasn't much better, playing Rihanna's song "Shut Up And Drive" twice (yes, she has another song besides "Umbrella") as well as some Bravery, Rooney, and Ferraby Lionheart. I hope, nay pray, that we get some cooler covers or a bit more obscure tracks throughout the season, however I think their aim is to keep it a balance between top 40 hits and cheesy indie tracks. Rooney was one of the bands OC pushed into the limelight, so maybe this was just for nostalgia sake? Will we have Bait Shop-esque performances in our future? We'll have to wait and see.
Rihanna - Shut Up And Drive
Rooney - When Did Your Heart Go Missing
Ferraby Lionheart - The Ballad Of Gus And Sam