Oh this time of year just gets crazy. Writing plays? Writing papers? Writing my top songs of 2005? I realize now that I said "beautiful melodies" or "you can dance to" about 9218 times. Expect more of that when I post Part II. I've developed a twitch now, which usually happens around this time of year. It can be the cause of one of two things: stress, or the fact that it's been five days since I last attended a show. I'm going to go with the latter. But no fear, we've got a good one coming up this week.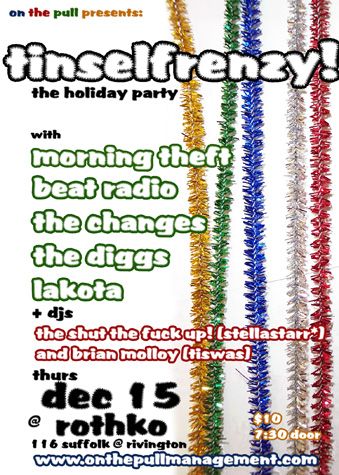 The ladies of on the pull are throwing quite the holiday bash this week with some Underrated approved bands. Let's all drink and be merry, because on Thursday I'm officially one semester away from finishing my college career and will have received a hefty (and probably last) paycheck from work. I can't think of a better reason to celebrate.

More details at i rock i roll.

And to get you in the holiday mood, here's some holiday covers + one original by the fabulous snowden. I didn't think the holidays could get any more depressing, but they just did. I love it.