Jeez, I feel like a frickin bulletin board here. But no worries, I do the little I can to help out.

The boys at Malken Music are looking to book bands for their July show at The Knitting Factory. We did a story on these young entrepreneurs in Issue Five of the magazine, and I can only expect great things to come from them in the future. Here's what they said:

We are looking for a couple bands that are interested in playing at The Knitting Factory on either July 15th or 16th. Each band must be able to draw 25+ people so if you can't, don't bother replying to this. The last show we put on sold out twice and we are looking to do it again. If you are in a band or have friends in a band that may be interested please let me know as soon as possible. Thank you.

Respond via myspace here.
And while you are in Brooklyn checking out
The Upwelling
, you can slide on over to Northsix to catch
Man In Gray
.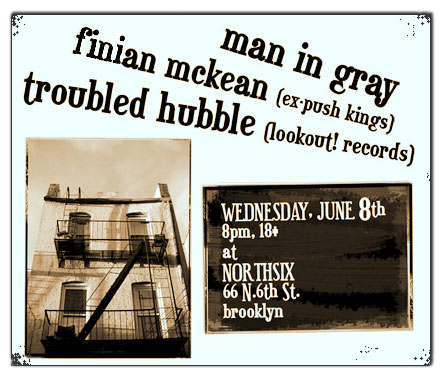 And now a word from your local sponsors...