One of the greatest parts of my parents coming to visit (besides their loving company) is the fact that they bring me a stack of music magazines from the UK. I have a certain addiction to NME that is usually fixed by routine visits to Virgin Megastore, but it's nice to actually have them to take home with me. It's the worst kind of music journalism out there, but it's so fantastic. I love every article and every band they undeservingly hype. (The Horrors as their latest example). But nonetheless, NME has it's place in pop culture and most definitely has its effect on the industry. So kudos to them for featuring our favorites Ra Ra Riot in their CMJ recap.
Click below to enlarge. Congrats to the band!!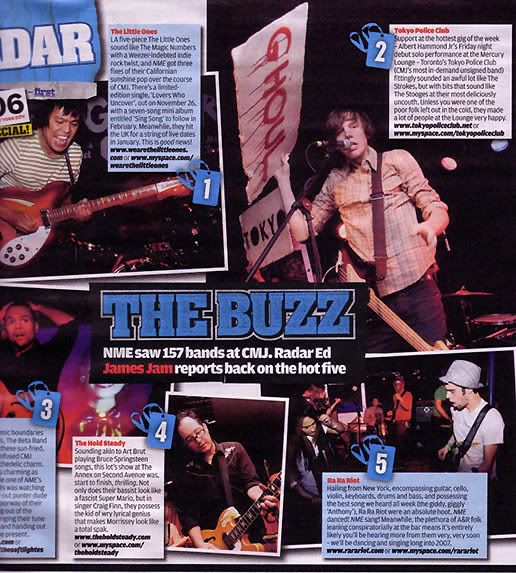 Ra Ra Riot is back next month, December 13 playing the always amazing Friction show at Sin-e brought to you by Crackers United. This lineup may just be their best yet. I'm already prepping for a long night of awesome bands. Check out all the info here and make sure you buy your tickets in advance. This is sure to sell out.