It's Valentines Day. I'll spare you from my ranting/raving/hopeless thoughts on this holiday. Expect a Valentines Day Mix later today that I am currently narrowing down from the 118 songs I put on my iPod today. I think my favorite (and perhaps the only) reason this holiday exists is to make great love mixes. At least I think so.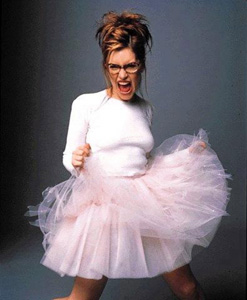 I was a huge Lisa Loeb fan when I was a young gal, and I now am rekindling my infatuation with the fantastic guilty pleasure show on VH1, also known as #1 Single. I don't think theres ever been a more charming person on a reality show before, and I think Miss Loeb is the only singer that could pull this type of set-up off. I watched the first episode when I was down in DC and I know Katie is a huge fan. I've DVRed all the episodes now. It's so good. (In spite of the thong incident)

You all know the song "Stay" and because this blog is a place where I can easily embarrass myself, I'll let you know that I used to play this song over and over again in my bedroom and pretend that I was Lisa Loeb. My sister still calls my glasses "Lisa Loeb frames." I had a whole music video planned out complete with my props of a telephone, a picture frame, and a radio. It was genius. Now, "Stay" is my #1 karaoke pick, and still a personal favorite song after all these years.

I hope Lisa Loeb finds love. It'll give hope to us all.


Lisa Loeb - Stay (I Missed You) [Living Room Mix]